A warm welcome to Hampton Hill
from the Hampton Hill Business Association (HHBA)
Walk up and down our virtual High Street to view all our wonderful shops, businesses, churches, schools and organisations; find out about our events; delve into the history of the area; and also discover more about the HHBA, whose aim is to provide support to local businesses and bring the community together.
Please help your community to thrive and shop local!
---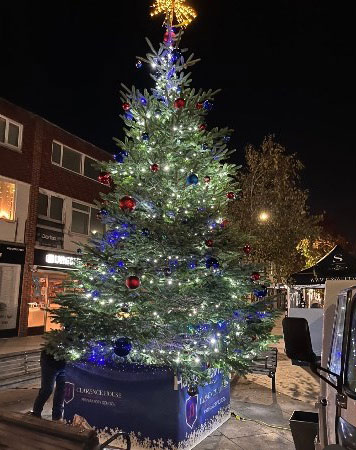 We're raising £1,200 to Help bring the community together with lighting up our main Christmas Tree in Hampton Hill!
We would love to get the community involved.
We have always received a fantastic donation from Clarence House Preparatory School (part of the Jack and Jill family of Schools) to cover the full cost of the large tree in Templeton Place. However this year the additional charges for this tree means that we need to raise an additional amount on top of the School's donation.
So we would love the families of Hampton Hill to assist us with this by sponsoring the tree! For £20 your family name can be added to the banner around the base of the tree for everyone to see and for your little ones to hunt for their name!
If you are able to help us provide this focal point to the High Street's festive celebrations we would be so grateful for donations of £20 by clicking here to go to our Just Giving page.
Please include your family name when making the donation and come along to locate this on the banner around the tree on or before the night of the parade, Friday 24th November 5.30-8.30pm!
We cant wait to see you there!
---
Hampton Hill Improvements on Their Way!
The Hampton Hill Improvement Group is a small group of local people interested in improving the local high street working with Councillors and Richmond Borough Council. In the last few years, we have run a competition to rename 'Templeton Place' and will soon be installing wildflower planters and repainted benches and flags to animate the area and make it a more pleasant place to spend time.
If you are interested in getting involved, please contact Georgia Ballantine our Town Centre Manager by email here.
Designs by Emma Appleton inspired by local tree species.
---
Hampton Hill Business Association is seeking additional Company Directors
Hampton Hill Business Association is a voluntary group that brings you Love Hampton Hill. It takes responsibility for managing the activities of the Town Centre Manager and supporting the businesses trading within the vibrant High Street area.
The Directors and Treasurer oversee the planning of events for the local community and delivery of services as required by the Borough fund for High Street activities.
Hampton Hill High Street comprises mainly independent retail outlets with additional services including fitness centres, theatre, nurseries, restaurants, and bars. The area is full of history and borders Bushy Park, which attracts many visitors.
The Business Association is now seeking additional directors, enthusiastic about developing services and activities in this popular area further. Some experience in retail, marketing, event planning and/or as a company officer would be desirable. Professional indemnity is in place to cover the work of the Association directors and volunteers.
This voluntary role would suit anyone who lives or works locally interested in the development and maintenance of the High Street. The role is rewarding in that together with the other directors and Treasurer you can influence the way the High Street and Hampton Hill Community develop and change.
Meetings are periodic and most of the workload is delegated to the Town Centre Manager. The current Company officers encourage you to consider this opportunity and look forward to welcoming new members.
If you would like further information in regards to this role or would like to apply please contact Georgia Ballantine our Town Centre Manager by email here.
---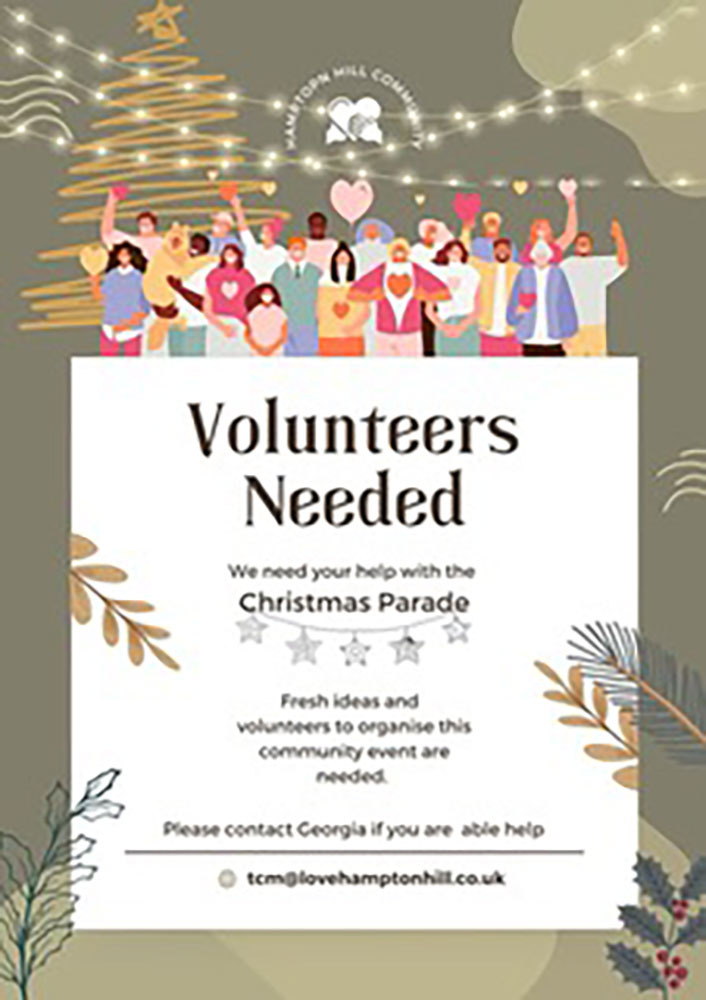 Help needed for the Hampton Hill Christmas Parade
The Hampton Hill Christmas Parade is a beloved tradition that brings the community together each year. This year, we are asking for volunteers to help make the parade even more special.
There are many different ways to volunteer for the parade. No experience is necessary. All ages and abilities are welcome.
If you are interested in volunteering, please contact Georgia Ballantine our Town Centre Manager by email here. We hope to see you at the parade!
---